More and more these days, the idea of a free, renewable, green source of power for your home, cabin, boat, or RV can sound pretty appealing. Who wouldn't want a way to reduce your energy bills or stay on the grid when regular power supplies are unavailable? While solar may be the best-known way to do this, energy from wind turbines is also a valuable and sometimes underrated way to create your own electricity.
But how exactly does a wind turbine work, anyway? We're breaking down this simple but important technology and what it means for you.
What Is Wind Energy?
You feel it every time you enjoy a summer breeze or hunker down against an icy winter gale–the wind has energy! There's natural kinetic energy created when pressure differences cause air to move from one spot to another.
These pressure differences are created by weather patterns that are driven by the sun. So, in a way, the energy you can get from a wind turbine is actually solar energy, just a few steps down the chain.
Various windmills and wind turbines can capture wind energy. Over the years, wind has been used to drive mechanical devices like water pumps, and grain mills. Today, most of these devices convert wind energy into electricity that we use the same way we'd use any other kind of electrical power.
How Do Wind Turbines Work?
Wind turbines rely on a few crucial components to turn wind into the power from your electrical outlets. Depending on the type and size of the turbine some components may or may not exist.
Here's a look at them.
Blades
All wind turbines, big and small have blades. The blades of a wind turbine catch the wind, producing the movement that transforms it into electricity. Most commonly, they look like the blades of a propeller, with aerodynamic surfaces modified to maximize their efficiency. The size, shape, and number of blades play a significant role in the power of a wind turbine.
The blades are connected to a hub. In larger turbines, the hub can vary the pitch of the blades to get them to catch more or less air. When you see a stopped turbine, even when it's windy, it's due to the hub flattening out the blades so they don't catch the wind.
Gear Box
In large grid-scale turbines, the hub is connected to a low-speed shaft that enters a gearbox. A gearbox can speed up the rotation of the wind turbine's blades just like the transmission in your car. This equipment captures the initial rotation and speeds it up by processing through gears. This faster rotation then feeds into the generator.
Many generators need to spin at the right speed to produce power and the gear box is designed to get the generator spinning at the right speed.
In addition to changing the speed, large wind turbines also have brakes built into the gearbox. These are used just like in your car to slow the turbine down. They can be used to get it to match a needed speed, or stop the turbine altogether. If something goes wrong its essential that the turbine be stopped or slowed.
Generator
The generator is where the action happens! It receives the rotational energy from the blades, turning the generator and producing electricity. Generator size and type varies significantly from small hundred-watt DC generators up to millions of watts synchronous AC grid generators.
Wind Instruments
On large-scale turbines, they all have wind sensors that feed information about wind speed and direction into the turbine's computer. This information is then used to point the turbine into the wind and control its speed.
Yaw Drive or Wind Vane
In most large wind turbines, they are pointed into the wind by use of a set of motors. These motors are called the yaw drive and turn the entire top of the turbine.
In smaller turbines, there is no yaw drive but instead a wind vane. This is a mechanical means, like the tail of a plane, to turn the turbine and keep it pointed into the wind.
Inverter
Some large grid-scale wind turbines have the capability to match their generator directly to the grid's power needs, but most of the time this is not the case.
Most wind turbines create varied voltage and current patterns that do not align with power grid needs. In these turbines, it's essential to electronically convert the power to match grid needs. That is the job of the inverter.
Factors That Determine Wind Turbine Electricity Production
So how much juice can your wind turbine generate, anyway? The answer to that will depend on a few key factors.
Wind Speed
Your wind speed will be the primary determining factor in how much energy your turbines will generate. It's the most obvious, but it's also the most important.
It's crucial that you receive winds as fast or faster than the cut-in speed, the lowest speed at which the turbine will create power. This is generally 6-9 miles per hour for many turbines.
The faster your wind speed above that number, the more energy you'll generate, up to the cut-out speed. This is the wind speed at which your windmill or turbine will no longer generate additional power or even shut down to protect itself from damage.
Area Swept
This concept refers to the total area your windmill blades cover as they rotate. The larger this circular area is, the more potential your wind turbine has to generate power. You can find this using the formula for the area of a circle. Area swept is a crucial number to know when calculating your overall power output.
Air Density
This may not be the most obvious aspect of wind power generation, but it's intuitive if you think about it. Heavier, denser air moving over the blades will naturally produce more energy thanks to its additional weight. On the flip side, thin air at high elevations simply can't push quite as hard on your wind turbine blades, even at the same wind speed.
Location
Location will affect several aspects previously discussed, from wind speed to air density. Land-based windmills will perform differently than offshore ones, as each will encounter different wind patterns and schedules.
On top of these broader location concerns, you'll also want to ensure your windmills aren't blocked by any natural or artificial obstructions like hills, forests, or buildings. Some users may even choose distributed wind systems, which combine the power of several smaller wind turbines to help generate a larger overall output.
What Are the Different Types of Wind Turbines?
All wind turbines aren't alike! Various styles and types can operate in significantly different ways for significantly different applications.
Horizontal-Axis
Horizontal-axis wind turbines are what most people think about when they think of a windmill. This style includes everything from those massive wind farm turbines to small personal mechanical windmills.
Think of a plane's propeller, typically with three blades attached in the center. These blades spin on a plane perpendicular to the ground, catching the wind on their edges.
Vertical-Axis
Vertical-axis wind turbines look like giant egg beaters, with the wind providing the energy! These less-common wind turbines use the same principles to catch the wind on the edges of their blades and convert it into electricity. They're less common as they're generally less efficient for their size than horizontal-axis options.
The benefit of horizontal wind turbines is they catch wind from any direction and do not need to be pointed into the wind.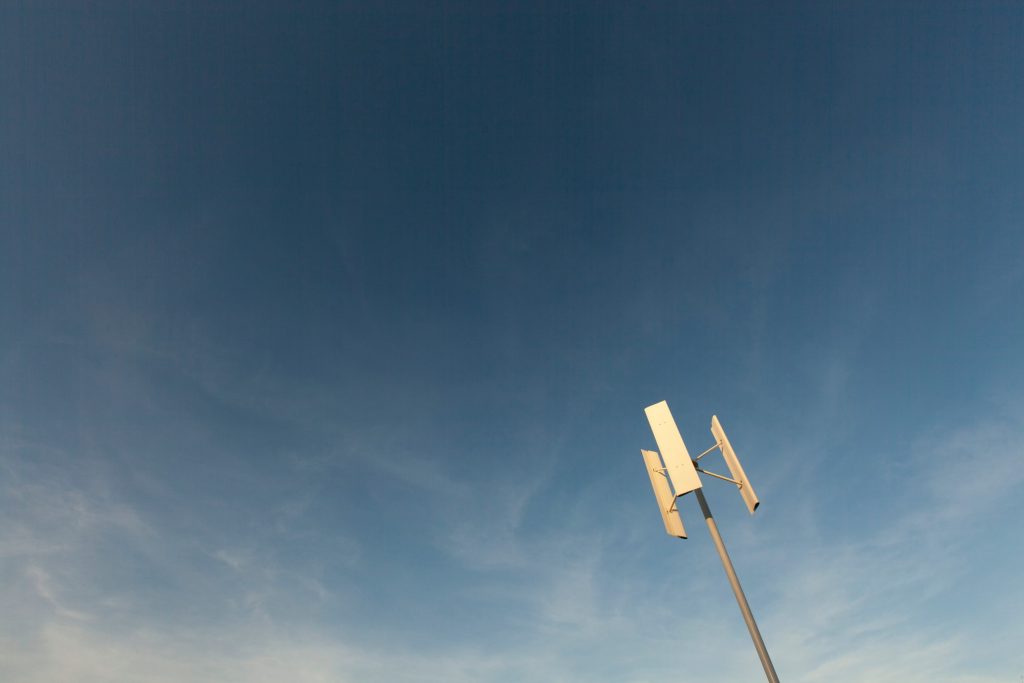 Commercial/Industrial
Industrial wind turbines are the heaviest-duty. These are the enormous windmills you'll see in commercial wind farms, sprawling across large fields or, occasionally, offshore. They're designed to produce as much power as possible for utility companies or other large private power users.
These turbines produce tend of thousands up to over 2 million watts of power each!
Residential
Residential wind turbines refer to the growing number of windmills available for individual home power usage. These are the types you'll use for your home, boat, or RV. They're far cheaper and smaller than commercial or industrial wind turbines, making them a more practical choice for personal usage.
These wind turbines range from a few hundred to a few thousand watts. Most of these produce DC power that is converted into power to be stored in batteries.
How Much Electricity Can a Wind Turbine Generate?
This answer will depend greatly on the style and type of turbine being discussed. According to federal government data, the average commercial or industrial turbine generates 402,000 kilowatt-hours per month or a stunning roughly 14,000 kilowatt-hours per day. That's enough to power more than 450 homes per day!
Multiply this by the number of wind turbines at an average wind farm and the number of wind farms across the United States, and you'll see the significant impact wind energy can make on our electrical system.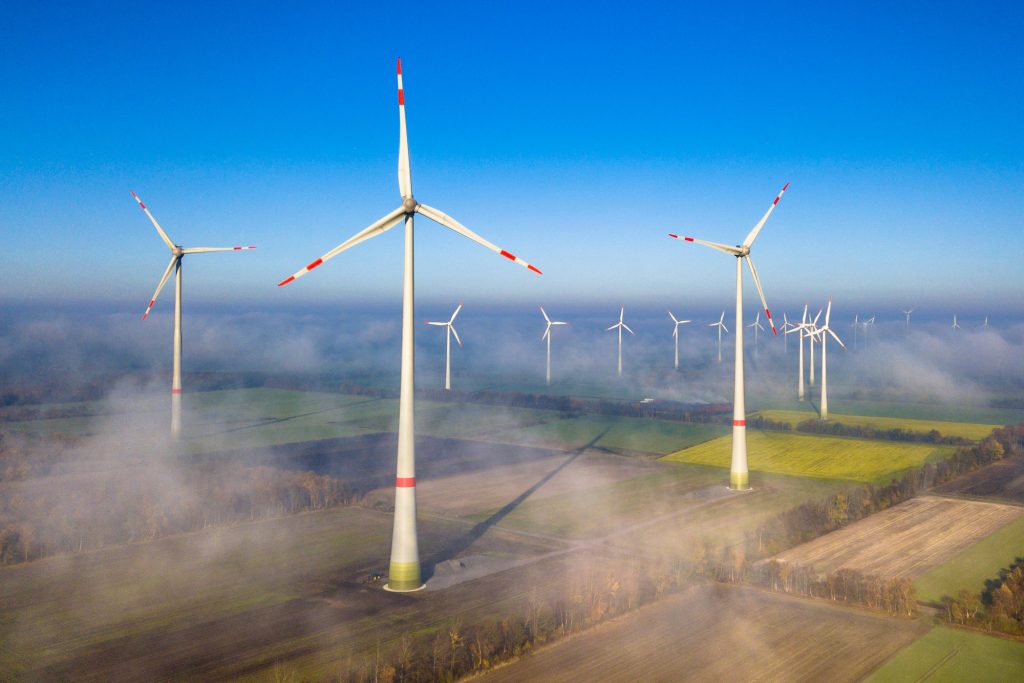 However, you may be more concerned about how much power you can generate from a wind power system you set up at home. As you might expect, it's much more modest but can still be significant.
Home wind turbines tend to range between 400 watts and 20 kilowatts per hour, with the majority offering low to mid-single-digit kilowatts. Keep in mind that this is the capacity under optimal wind speeds and conditions, so you'll need to factor in any expected downtime as well.
Many times residential areas are less ideal for wind turbines due to location and obstacles. Because of this, getting a good estimate on wind production can be tough. Its much easier to figure out how much solar you need.
How Fast Do Wind Turbines Spin?
The answer is most likely faster than you might think! Some wind turbines can spin as fast as 70 miles per hour, even at low wind speeds. They can reach more than twice that speed before safety measures kick in.
When considering the tip speed of the blades, remember that speed increases as blade length increases. Higher tip speeds also tend to create more noise.
If wind turbine blades begin to spin too fast, they'll reach the cut-out speed for the turbine. This is the maximum speed the turbine can safely operate at, above which it will shut down to prevent damage. While the blades may continue to spin, they'll no longer be driving the generator.
Benefits of Wind Turbines
If you live in a windy environment, wind turbines can be your ticket to a free supply of renewable, green energy. Every bit of fossil fuel energy you replace with wind energy will help reduce emissions and protect the environment. Day or night, wind turbines can also continue producing power for your immediate use or stored in batteries for later.
Better yet, they provide access to power in situations where other utilities might not be available or are down due to weather or other issues. This makes them a suitable choice in off-grid or very rural situations.
Are There Any Disadvantages to Wind Turbines?
There are a few drawbacks to wind, especially when compared to some other renewable energy options. While solar panels cannot produce power at night, wind turbines may not produce any power for entire days at a time if winds don't reach the necessary cut-in speed. This makes them a less attractive choice for areas with low speed or inconsistent winds.
Wind turbines also typically require more maintenance and repair than solar due to the larger number of moving and mechanical parts.
Many residential communities find the sights and sounds of wind turbines unpleasant. This makes large-scale building projects in potential wind energy locations difficult.
Finally, the wind is an inconsistent source of energy. Sometimes you will have too much wind while other times, not enough. Wind generation does well to pair with energy storage solutions and batteries to balance out these highs and lows over time.
Battery technology continues to advance to provide even more cost-effective and reliable solutions for nonstop power in wind generation power systems.
That's How Wind Turbines Work!
In some ways, wind energy can seem like magic. It captures the power of a free, invisible, endlessly renewable resource and transforms it into power for your lights, heat, and other creature comforts.
But now that you understand how wind turbines work, you know it's not magic–just new applications of age-old principles. Keep this knowledge in mind as you consider a wind power system of your own, and you'll be blown away by the results.